Lovely, Handmade Gift Collections For Your Loved Ones – The Love Reads
Thinking of a gift for your loved ones, but just can't figure out what to give them? Fret not, that's where TheLoveReads steps in. Who is The Love Reads? What is The Love Reads?
TheLoveReads is a newly,launched online gift shop that provides variety of lovely, handmade gift collections for your loved ones, be it your mother or your other half. It can also be a gift to your long-time crush. Sometimes, simple words can lead to a sweet connection.
As Christmas is just around the corner, TheLoveReads decided to launch with a couple of Christmas gift package for you to choose from for your dearly beloved. Let's not waste any more time and get into it!
The Serenity Collection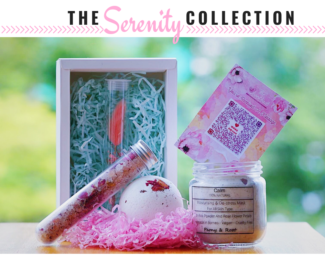 The first set from TheLoveReads for the Christmas edition is The Serenity Collection. This set consist of a dry flower, a soothing foot salt, aromatic bath bomb (which comes in two scent; Lavender and Coconut Rose), and the face mask (which consists of 3 types; Calm, Spot and Acne).
Also, the set includes a custom-made E-Love Letter for your dearie. They'll just need to scan the barcode on the card and B-A-M, floods of the sweetest memory of both of you and your lovely messages will be the first thing they see.
Imagine how happy your dearly beloved feel when they open this box of sweet surprise. The smell of floral, fresh Lavender exudes the air as she opens your gift featuring the adorable messages she'll be reading.
The Tranquility Collection – Destress with Romantic Scents
Second is The Tranquility Collection that can just distress your baby with the romantic scents of the bath bomb which is inclusive in this package. Other than that, there is also foot salt and face mask that can soothe your love after a stressful day.
For this package, it is also like The Serenity Collection whereas you can choose what scent of bath bomb you want. Moreover, this package also contains the E-Love Letter!  
The Aphrodite and Luck Be A Lady Collection
Aphrodite was the goddess of love and beauty! Shower your darling with love and get her The Aphrodite Collection to make her feel like a goddess of love and beauty she already is. As the lyric goes in Katy Perry's song Dark Horse, "Make me your Aphrodite, make me your one and only."
Luck Be A Lady Collection has the bunny tail dry flower in it. Did you know that bunnies bring good luck? When a Bunny crosses your path a change of luck is coming, and mostly for the good. If you feel like you're sweet one is your lucky charm, gift her the Luck Be A Lady Collection this Christmas to remind her how lucky you are to have her in your life.
Each of these collections has a dry flower and E-Love Letter.
The Love Note Collection
The Love Note Collection is the epitome of the term "It's the little things that matters." This collection has a cute, petite dry flower with an E-Love Letter that will show a customized message from you to her as she scan the barcade.
Floods of mementos and the sweet little things that you love about her and being with her will be presented in the E-Love Letter. Trust me in this, it's not about how grand your gesture is, it's the little things that matters.
The Eternal Love Collection
The Eternal Love Collection has a gorgeous, dry flower that can last for eternity. Get this collection as a symbolic of your eternal love for your cutie. On top of that, you can custom-made an E-Love Letter for your princess to sweep her off her feet with adorable, sweet memories of that day you first met her…
*The Fluffy Unicorn is not inclusive in the Eternal Love Collection*
Gentleman, what are you hesitating for? Get these amazing Christmas Special Edition collections from TheLoveReads for your princess today. For those still pondering upon what to buy for her, ponder no more and head on to our product page and choose your desired package.
Related Post